Find healthy, delicious weight-loss and diet recipes, including breakfasts, lunches and dinners, from the food and nutrition experts at HealthAdvisor247. Recipes for weight loss meet our nutrition parameters for high-fiber and low-calorie.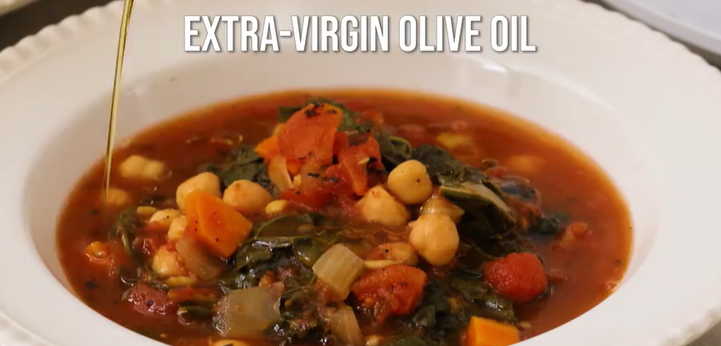 Slow-Cooker Mediterranean Diet Stew
With a focus on vegetables, fiber-rich legumes and healthy fats, this slow-cooker stew fits the bill for those following the Mediterranean diet. Swap out the chickpeas for white beans for a different twist, or try collards or spinach in place of the kale. A drizzle of olive oil to finish pulls together the flavors of this easy vegan crock-pot stew.
Ingredients
Ingredient Checklist
2 (14 ounce) cans no-salt-added fire-roasted diced tomatoes
3 cups low-sodium vegetable broth
1 cup coarsely chopped onion
¾ cup chopped carrot
4 cloves garlic, minced
1 teaspoon dried oregano
¾ teaspoon salt
½ teaspoon crushed red pepper
¼ teaspoon ground pepper
1 (15 ounce) can no-salt-added chickpeas, rinsed, divided
1 bunch lacinato kale, stemmed and chopped (about 8 cups)
1 tablespoon lemon juice
3 tablespoons extra-virgin olive oil
Fresh basil leaves, torn if large
6 lemon wedges (Optional)
Directions
Instructions Checklist
Step 1Combine tomatoes, broth, onion, carrot, garlic, oregano, salt, crushed red pepper and pepper in a 4-quart slow cooker. Cover and cook on Low for 6 hours.
Step 2Measure 1/4 cup of the cooking liquid from the slow cooker into a small bowl. Add 2 tablespoons chickpeas; mash with a fork until smooth.
Step 3Add the mashed chickpeas, kale, lemon juice and remaining whole chickpeas to the mixture in the slow cooker. Stir to combine. Cover and cook on Low until the kale is tender, about 30 minutes.
Step 4Ladle the stew evenly into 6 bowls; drizzle with oil. Garnish with basil. Serve with lemon wedges, if desired.
Tips
Equipment: 4-qt. slow cooker
Nutrition Facts
Serving Size: 1 3/4 cupsPer Serving: 191 calories; protein 5.7g; carbohydrates 22.9g; dietary fiber 5.6g; sugars 6.5g; fat 7.8g; saturated fat 1g; vitamin a iu 5379.6IU; vitamin c 32.7mg; folate 39.3mcg; calcium 128mg; iron 2.1mg; magnesium 33.8mg; potassium 309.5mg; sodium 415.5mg; thiamin 0.1mg.Exchanges:
2 vegetable, 1 1/2 fat, 1/2 lean protein, 1/2 starch